Search Help
Deleting/updating your card details
To register a new card or update your existing details (i.e. expiry date, preferred currency, etc.), head to our Cashier, and make a deposit.
To be redirected to your cashier press the button below:

My old card is set as Fast Deposit option
If you see your old card as your Fast Deposit option, select More Payment Methods. There you'll be able to enter your new card details.
Before you submit the deposit request, you'll see the following options:
Make this my Fast Deposit account: Tick this box to make the new card your Fast Deposit preferred option.
Save payment information: Tick this box to add your new card to the list of Previously used methods.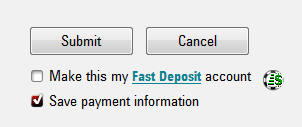 How can I see my previously used methods?
If this is not your first deposit, click on 'Deposit', you'll see a list with your 'Previously used methods'. Select any method to see the following options:
Deposit: Click here to use the method to complete your deposit.
Remove: Click here to delete the method from the 'Previously used methods' list (you still can use this method in the future).
Other payment methods: Click here to see all other deposit options available to you.
Fast Deposit Options: Click here to review and edit your preferred method and amount for Fast Deposit.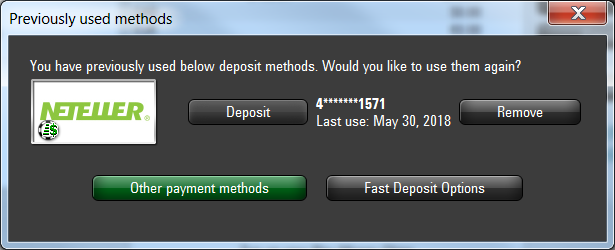 Feedback
Did this article answer your question?